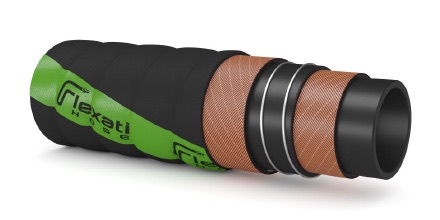 Application
Water suction and delivery hose used for water, sewage and slurry discharge applications. Hoses are produced with cuffed ends for easier coupling.
Tube
Black smooth, synthetic rubber compound.
Reinforcement
High strength synthetic plies and steel wire spirals.
Cover
Wrapped impression, abrasion and weather resistant SBR/EPDM rubber compound. Both ends cuffed for easier coupling.
Temp. Range
-30°C to +80°C ; -22°F to 176°F
inch
mm
cm
BAR
PSI
BAR
PSI
BAR
mm
gr/mt
mt
1"
25.4
10
5
75
15
225
0.80
75
650
1-6
1 1/4"
32
12
5
75
15
225
0.80
95
880
1-6
1 1/2"
38
12
5
75
15
225
0.80
120
1110
1-6
1 3/4"
44.5
12
5
75
15
225
0.80
135
1350
1-6
2"
50.8
12
5
75
15
225
0.80
150
1435
1-6
2 1/2"
63.5
12
5
75
15
225
0.80
250
2115
1-6
2 3/4"
70
12
5
75
15
225
0.80
280
2453
1-6
3"
76.2
12
5
75
15
225
0.80
305
2681
1-6
4"
101.6
12
5
75
15
225
0.80
500
3586
1-6
5"
127
15
5
75
15
225
0.80
750
5610
1-6
6"
152.4
15
5
75
15
225
0.80
960
7044
1-6
8"
203.2
15
5
75
15
225
0.80
1200
9238
1-6
10"
254
15
5
75
15
225
0.80
1500
16114
1-6
12"
304.8
15
5
75
15
225
0.80
1900
19102
1-6