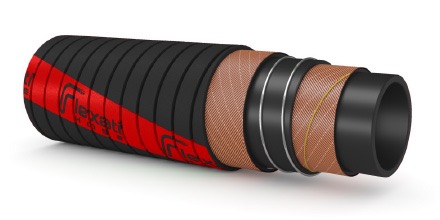 Application
Extremely flexible oil suction and delivery hose used in transfer of mineral oils, diesel fuel and gasoline with aromatic content up to 50%.
Tube
Black, smooth, NBR rubber compound.
Reinforcement
High strength synthetic plies and steel wire spirals, conductive copper wire.
Cover
Square corrugated, wrapped impression, abrasion and weather resistant synthetic rubber compound.
Temp. Range
-40°C to +100°C ; -40°F to 212°F
inch
mm
mm
BAR
PSI
BAR
PSI
BAR
mm
gr/mt
mt
3/4"
19
28
10
150
30
450
0.9
60
590
61
1"
25.4
34
10
150
30
450
0.9
80
720
61
1 1/4"
32
42
10
150
30
450
0.9
105
985
61
1 1/2"
38
48
10
150
30
450
0.9
120
1150
61
1 9/16"
40
50
10
150
30
450
0.9
135
1210
61
1 3/4"
44.5
55
10
150
30
450
0.9
150
1390
61
2"
50.8
63
10
150
30
450
0.9
165
1610
61
2 3/8"
60
72
10
150
30
450
0.9
180
1800
61
2 1/2"
63.5
74
10
150
30
450
0.9
195
1910
61
3"
76.2
90
10
150
30
450
0.9
230
2847
61
4"
101.6
116
10
150
30
450
0.9
310
4192
61