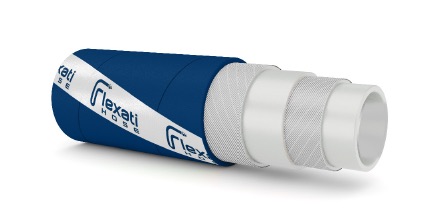 Application
Transfer of fatty liquids including milk, juice, soft drinks, or water-based products such as pharmaceuticals and cosmetics requiring an FDA grade hose.
Tube
White, smooth, FDA approved NBR rubber compound.
Reinforcement
High strength synthetic plies.
Cover
Blue, wrapped impression, abrasion, weather and ozone resistant, synthetic rubber compound.
Temp. Range
-40°C to +80°C ; -40°F to 176°F. Sterilization with 110°C (230°F) steam for 10 minutes or with 5% soda solution.
inch
mm
mm
BAR
PSI
BAR
PSI
gr/mt
mt
3/4"
19
30
10
150
30
450
620
61
1"
25.4
37
10
150
30
450
818
61
1 1/4"
32
44
10
150
30
450
1074
61
1 1/2"
38
51
10
150
30
450
1362
61
1 3/4"
44.5
57
10
150
30
450
1561
61
2"
50.8
65
10
150
30
450
1936
61
2 1/2"
63.5
77
10
150
30
450
2324
61
3"
76.2
92
10
150
30
450
3129
61