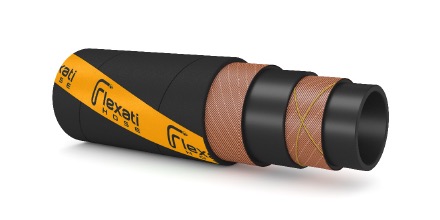 Application
Pump hose for vehicle refueling and bulk loading from tankers of liquified petroleum according to EN 1762. Hose is suitable for transfer of natural gas as well.
Tube
Black, smooth, electrically conductive NBR compound.
Reinforcement
High strength synthetic textile plies, 2 crossing conductive copper wires.
Cover
Wrapped impression, electrically conductive, fireproof CR rubber compound, resistant to abrasion, weather, ozone, oil and heat.
Temp. Range
-30°C to +70°C; -22°F to 158°F
inch
mm
mm
BAR
PSI
BAR
PSI
mm
gr/mt
mt
1/2"
12.7
23
25
363
100
1450
100
390
61
5/8"
16
26
25
363
100
1450
120
470
61
3/4"
19
31
25
363
100
1450
160
650
61
1"
25.4
38
25
363
100
1450
200
840
61
1 1/4"
32
45
25
363
100
1450
250
1050
61
1 1/2"
38
52
25
363
100
1450
320
1300
61
2"
50.8
67
25
363
100
1450
400
1900
61
2 1/2"
63.5
81
25
363
100
1450
550
2500
61
3"
76.2
94
25
363
100
1450
650
3040
61
4"
101,6
120
25
363
100
1450
800
3860
61