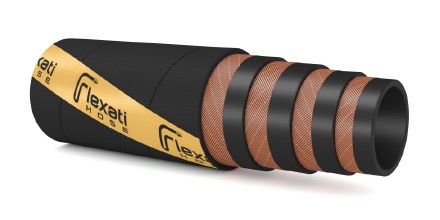 Application
Used in conveying sand, shot, glass beads and other abrasive materials at high velocity for cleaning metal, concrete surfaces at shipyards and general construction.
Tube
Black, smooth, static-dissipating, NR/SBR rubber compound. ¼" tube thickness.
Reinforcement
High strength 4 synthetic plies.
Cover
Wrapped impression, abrasion and weather resistant, static-dissipating, pin-pricked, NR/SBR rubber compound.
Temp. Range
-40°C to +85°C ; -40°F to 185°F
inch
mm
mm
inch
BAR
PSI
BAR
PSI
gr/mt
mt
1/2"
13
28.5
1.13
10
150
30
450
641
61
3/4"
19
38.1
1.50
10
150
30
450
1048
61
1"
25.4
47.6
1.88
10
150
30
450
1556
61
1 1/4"
32
54.7
2.16
10
150
30
450
1898
61
1 1/2"
38
60.3
2.38
10
150
30
450
2027
61
2"
50.8
73.3
2.88
10
150
30
450
2528
61
Abrasion loss value of the tube ≤ 50 mm³ (according to DIN ISO 4649:2006)