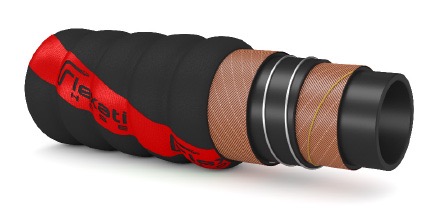 Application
Transfer of fuels, oils and other petroleum derivatives with up to 50% aromatic content. Corrugated construction provides flexibility and makes it easier to drag the hose by reducing friction.
Tube
Black, smooth, NBR rubber compound.
Reinforcement
High strength synthetic plies and steel wire spirals. Copper wire added for grounding.
Cover
Corrugated, wrapped impression, abrasion and weather resistant special synthetic rubber compound.
Temp. Range
-30°C to +80°C ; -22°F to 176°F
inch
mm
mm
BAR
PSI
BAR
PSI
BAR
mm
gr/mt
mt
3/4"
19
29
10
150
30
450
0.9
71
476
61
1"
25.4
37
10
150
30
450
0.9
87
623
61
1 1/4"
32
44
10
150
30
450
0.9
116
865
61
1 1/2"
38
50
10
150
30
450
0.9
134
1010
61
1 3/4"
44.5
57
10
150
30
450
0.9
157
1318
61
2"
50.9
64
10
150
30
450
0.9
186
1522
61
2 1/2"
63.5
77
10
150
30
450
0.9
230
2130
61
3"
76.2
90
10
150
30
450
0.9
298
2615
61
4"
101.6
116
10
150
30
450
0.9
390
3851
61
5"
127
145
10
150
30
450
0.9
510
6260
61
6"
152.4
172
10
150
30
450
0.9
620
8741
61
8"
203.2
225
10
150
30
450
0.8
814
12306
20