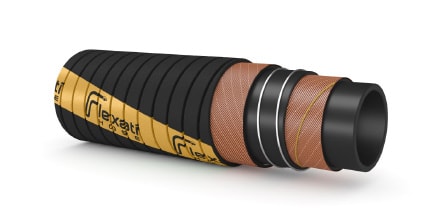 Application
Suction and discharge hose for dry-abrasive materials including cement, gravel, sand. Hose is very flexible due to its channeled construction. 
Tube
Black, smooth, anti-static NR/SBR rubber compound.
Reinforcement
High strength synthetic plies, steel wire helix, anti-static copper wire.
Cover
Wrapped impression, channeled, abrasion and weather resistant, anti-static, NR/SBR rubber compound.
Temp. Range
-40°C to +70°C ; -40°F to 158°F
inch
mm
inch
mm
BAR
PSI
BAR
PSI
BAR
mm
gr/mt
mt
2"
50.8
2.52
64
10
150
30
450
0.9
170
1784
61
2 1/2"
63.5
3.03
77
10
150
30
450
0.9
210
2233
61
3"
76.2
3.55
90
10
150
30
450
0.9
260
2701
61
4"
101.6
4.65
118
10
150
30
450
0.9
380
4241
61
5"
127
5.75
146
10
150
30
450
0.8
470
6410
61
6"
152.4
6.77
172
10
150
30
450
0.8
580
7986
61