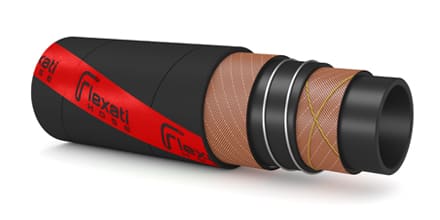 Application
Transfer of fuels, oils and other petroleum derivatives with up to 50% aromatic content.
Tube
Black, smooth, conductive NBR rubber compound.
Reinforcement
High strength synthetic plies and steel wire spirals. Copper wire added for grounding.
Cover
Wrapped impression, abrasion, ozone, and weather resistant, flame retardant anti-static CR rubber compound.
Temp. Range
-30°C to +90°C ; -22°F to 194°F
inch
mm
mm
BAR
PSI
BAR
PSI
BAR
mm
gr/mt
mt
3/4"
19
31
16
232
64
928
0.9
125
685
61
1"
25.4
37
16
232
64
928
0.9
150
863
61
1 1/4"
32
44
16
232
64
928
0.9
175
1051
61
1 1/2"
38
51
16
232
64
928
0.9
225
1447
61
2"
50.8
67
16
232
64
928
0.9
275
2235
61
2 1/2"
63.5
79
16
232
64
928
0.9
300
2890
61
3"
76.2
92
16
232
64
928
0.9
350
3485
61
4"
101.6
118
16
232
64
928
0.9
450
4673
61