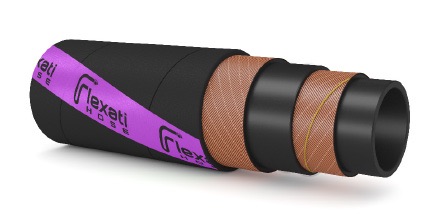 Application
Transfer of chemicals, urban and industrial wastewater discharge of mixed content. For suitable fluids please check chemical resistance chart at the end of the catalog.
Tube
Black, smooth, antistatic EPDM rubber compound.
Reinforcement
High strength synthetic plies, conductive copper wire.
Cover
Wrapped impression, abrasion, weather and heat resistant, antistatic, EPDM rubber compound.
Temp. Range
-40°C to +100°C ; -40°F to 212°F
inch
mm
mm
BAR
PSI
BAR
PSI
gr/mt
mt
3/4"
19
29
10
150
40
600
510
61
1"
25.4
35
10
150
40
600
610
61
1 1/4"
32
44
10
150
40
600
886
61
1 1/2"
38
49
10
150
40
600
1012
61
2"
50.8
64
10
150
40
600
1267
61
2 1/2"
63.5
77
10
150
40
600
1984
61
3"
76.2
90
10
150
40
600
2418
61
4"
101.6
117
10
150
40
600
3183
61