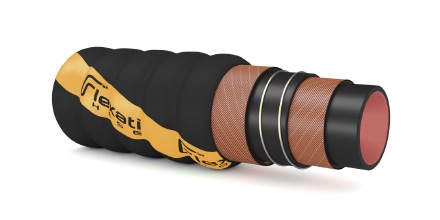 Application
Heavy duty suction hose used in sewer and waste suction trucks, industrial vacuum of drill cuttings, tank bottoms, heavy crude sludge and sand slurries.
Tube
Highly abrasion resistant red NR tube.
Reinforcement
High tensile textile plies, steel wire helix, anti-static copper wire.
Cover
Black, corrugated, wrapped impression, abrasion, ozone and weather resistant, conductive NR/SBR compound.
Temp. Range
-40°C to +80°C ; -40°F to 176°F
inch
mm
mm
BAR
PSI
BAR
PSI
BAR
mm
gr/mt
mt
2"
50.8
69
10
150
30
450
0.9
160
2157
61
3"
76.2
96
10
150
30
450
0.9
230
3587
61
4"
101.6
122
10
150
30
450
0.9
310
5085
61
5"
127
149
10
150
30
450
0.9
390
6673
61
6"
152.4
174
10
150
30
450
0.9
610
8689
61
8"
203.2
227
10
150
30
450
0.8
815
13744
20
10"
254
283
10
150
30
450
0.8
1020
20782
20