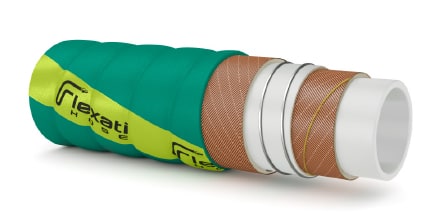 Application
Suction and delivery hose for wide range of chemicals, petroleum derivatives and food stuff. For suitable fluids please check chemical resistance chart at the end of the catalog.
Tube
White, smooth, antistatic, UHMW-PE compound.
Reinforcement
High strength synthetic plies, 2 helix wires, conductive copper wire.
Cover
Wrapped impression, corrugated, abrasion, weather and heat resistant, antistatic, synthetic EPDM rubber compound.
Temp. Range
-40°C to +100°C ; -40°F to 212°F
inch
mm
inch
mm
BAR
PSI
BAR
PSI
BAR
mm
gr/mt
mt
3/4"
19
1.14
29
17
250
52
750
0.9
100
700
61
1"
25.4
1.47
37.3
17
250
52
750
0.9
122
850
61
1 1/4"
32
1.78
45.2
17
250
52
750
0.9
145
1150
61
1 1/2"
38
2.08
52.8
17
250
52
750
0.9
168
1400
61
2"
50.8
2.64
67
17
250
52
750
0.9
221
1890
61
2 1/2"
63.5
3.15
80
17
250
52
750
0.9
264
2600
61
3"
76.2
3.66
92.9
17
250
52
750
0.9
303
3460
61
4"
101.6
4.70
119
17
250
52
750
0.9
389
4450
61